Being fluent in Portuguese is easier than you imagine!
This course is for people who…
Just concluded the Portuguese in Record Time course;
Already have A2 (basic) level of Portuguese and want to achieve fluency in the 4 skills: listening, speaking, reading and writing.
Are looking for more flexibility to study due to their busy schedule. 
It only takes 4 simple steps to reach fluency in Portuguese:
1 – Read and listen contents on a topic;
2 – Practice the topic, doing exercises and writing a text;
3 – Receive a thorough correction of your text;
4 – Have a 30-minute conversation on the topic.
Content
You choose a topic and we work on it following the 4 steps mentioned above.
Social Life;
Art and culture;
Work and study;
Shopping and services;
Media and communication;
Transport and travel;
Food and eating out;
Body and health;
Science and technology;
Nature and environment.
Features
1 – Videos and articles from the Brazilian media (real-life Portuguese!);
2 – Exercises;
3 – Brazilian tutor to clarify your doubts;
4 – Presentation of grammar topics throughout the articles, videos and text corrections;
5 – One-on-one conversation practice.
Learn anywhere and at your pace
My course offers you a self-paced learning.
It means you can learn in your own time and schedule, you don't need to complete the same assignments or learn at the same time as others. You can proceed from one topic or segment to the next at your speed.
You study at your own pace!
Meet your teacher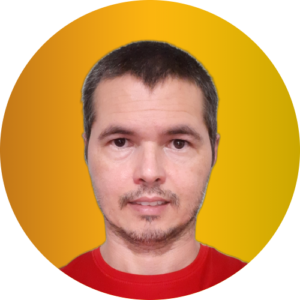 Hi! My name's Ricardo Filgueira, I have a degree in Modern Languages, I'm a specialist in Portuguese Language, a specialist in Distance Education and an Instructional Designer.
My Portuguese teaching experience started in 2002, when I lived in Geneva, Switzerland.
I'm the creator of the Portuguese in Record Time Method and several other online courses.
Besides Portuguese, I speak English, French and I'm currently learning German.
Cost