Get To Know  PraDizer , a Program Totally
In Portuguese For You to:
Conjugate Verbs With Ease
There are thousands of verbs in Portuguese and in your language. 
However, to fully express yourself,
you only need to master a few dozen verbs
, those that are used most often. 
With
 PraDizer
, you'll learn:
The most used verbs and conjugations;
In what situations to use each conjugation;
The several meanings of each verb.
By mastering these verbs, you will automatically have more confidence to communicate in a variety of formal and informal situations.
Increase Your Vocabulary
You might have spent some time already learning the rules of grammar in Portuguese. Instead of thinking of them as rules, think of them as patterns.
In addition to learning verbs in depth, you will also learn how to use other parts of speech (noun, adjective, adverb, preposition…) in formal and informal contexts, in a intuitive way, just by learning language patterns.
Ah! And your Portuguese will sound much more natural with the expressions and idioms you'll learn throughout the course.
Improve Your Listening skills
Listening plays a vital role for those who want to learn a language for communicative purposes, once it helps the language learner to acquire pronunciation, word stress, and intonation.
Everything that you see in the video lessons is spoken, and the best: at natural speed and intonation, as if I were speaking to a native.
The more you progress through the videos, the more you get your ears used to Portuguese sounds.

YOUR BONUS: SMART FLASHCARDS 
Memorizing conjugations (see more here) is one of the greatest stumbling blocks for Portuguese learners!
Verbs in Portuguese are conjugated by person and number, meaning that you'll have to memorize 4 different endings for each verb that you learn.
If that's not enough, the conjugations can be different depending on whether the verb ends in -ar, -er, -or -ir. 
With the smart flashcards I created for you, vocabulary and verb conjugations will be on the tip of your tongue.
FEATURES
Course totally in Portuguese;

For students from 

basic (A2) to advanced (C1) level

; 




Content in video and PDF;

Teacher to clarify your doubts;
Smart flashcards;
Accent reduction activities;
Exercises in digital format with commented answers;
One year of access;
Certificate.
In the Virtual Classroom will be all videos, exercises and PDFs. 
You will be able to study the contents whenever you want and as many times you want, you make your study schedules.
After completing the payment, you will receive the access data in the email you used to purchase the course.
MY GUARANTEE
This course is the result of years of dedication to Portuguese teaching and I'm sure you will love it!
But, if you are not satisfied with it in any way whatsoever, just let me know within 10 days of purchase,
I will issue a prompt refund. No hassle, no questions
.
So, rest assured
, give yourself the opportunity to learn Portuguese the right way.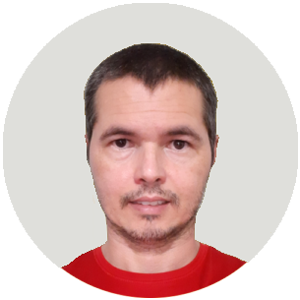 Hi! My name is Ricardo Filgueira, I'm from São Luís  – MA and I've been living in São Paulo since 2015.
I have a degree in Modern Languages, I'm a specialist in Portuguese Language, a specialist in Distance Education and an Instructional Designer.
My Portuguese teaching experience started in 2002, when I lived in Geneva, Switzerland.
I'm the creator of the Portuguese in Record Time Method and other online courses. Besides Portuguese, I speak English, French and I'm currently learning German.  
FREQUENTLY ASKED QUESTIONS
You start immediately, you don't need to wait for registration dates. After payment confirmation, you will receive your data to enter the course.
The time it will take you to conclude the course depends on your motivation and amount of time you invest in your studies.
Yeah, and it's not just a stylish document, it's an indisputable proof that you really speak Portuguese.