Ths course was designed for students of Portuguese as a Foreign Language (PLE) who intend taking the Celpe-Bras exam.  Improve your reading and writing skills.
Requirements
Objectives
To make the student familiar with the exam structure;
To improve listening, reading, writing and speaking skills.
Highlights

Personalized service with a native teacher during 30 days;
Fully online course (study at your own pace!);
1 Simulation of Prova Oral (3 Elementos Provocadores);
Composing techniques;
8 Tarefas corrected according to the Celpe-Bras parameters;
Texts with audio about the Brazilian culture (music, cinema, art etc.);
Grammar topics;
Exercises.
Course modules
 1 – Composing techiniques 
Learn how to produce texts in different textual genres.
2 – Vocabulary
Verbs and expressions that will be very useful in the written and oral test.
3 – Culture and Gastronomy
Videos and texts with audio about Brazilian culture and gastronomy.
4 – Themes
In this module you will deepen your knowledge on the topics most covered in Prova Escrita and Prova Oral:
4.1 – Work and study;
4.2 – Commerce and services;
4.3 – Communication;
4.4 – Body and health;
4.5 – Transport;
4.6 – Climate and ecology;
4.7 – Leisure, travel and art.
All themes have videos or texts with audio and vocabulary with the most difficult terms.
5 – Grammar
This module is divided into 4 parts:
5.1 – Portuguese in practice;
5.2 – Verb;
5.3 – Pronoun;
5.5 – Spelling.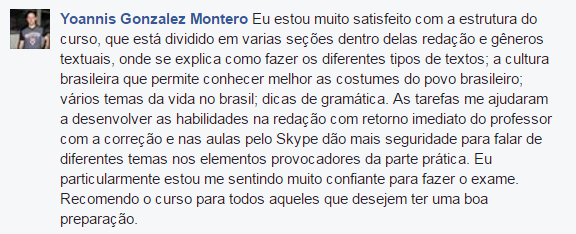 About the course creator
Ricardo Filgueira is a Portuguese teacher with 15 years of experience. He's a Instructional Designer with a degree in Letters, specialization course in Distance Education and in Portuguese Language.
He also worked for the Ministry of Education, as a official corrector of Enem exam.
Guarantee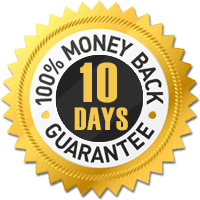 We always put customer satisfaction first. That's why we offer a 10 days money back guarantee. If you are not satisfied with this course within the first 10 days of purchase, we'll give you a full refund.