Ebook Mastering Slangs and Swearwords In Brazilian Portuguese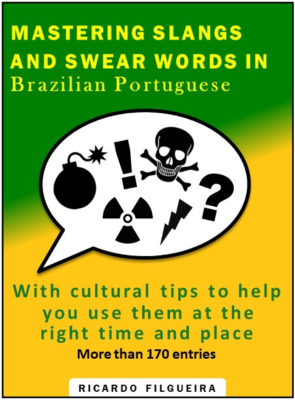 Visit the Amazon website to look inside the ebook.
There's no way out! If you REALLY want to understand what Brazilians say on the Internet, streets, tv, movies… You need to learn slangs and dirty words.
In addition to that, bad words allow us to express emotions that are not as easy to communicate.
This book is the most detailed and complete material on Brazilian slangs and swear words ever made. See why:
1 – More than 170 entries;
2 – All terms are widely used in any region of Brazil;
3 – Bilingual;
4 – A big amount of sentences to boost your vocabulary!
You'll learn, for example, different words for:
– Buddy/guy;
– Idiot/fool;
– A pain in the ass;
– Sleazebag;
– Bastard;
– Dating vocabulary;
– Dick;
– Pussy;
– Fuck;
– Cool/nice;
– And many, many other things…
And the best of all… All the terms are known in EVERY CORNER OF BRAZIL. So, no matter where you go, you'll understand and be understood!
Based on more than a decade of experience, this book is another masterpiece of Ricardo Filgueira, teacher, researcher, Instructional Designer, polyglot, creator of the Method PORTUGUESE IN RECORD TIME and the website www.portuguesdobrasil.com.br
If you REALLY want to understand what Brazilians say, that's a must read work!