LEARN
REAL-LIFE PORTUGUESE
FOR YOU TO SPEAK TO BRAZILIANS WITH CONFIDENCE IN EVERYDAY SITUATIONS
Get to know Portuguese in Record Time, an intensive course for beginners with a focus on listening and speaking.

STRAIGHT TO THE POINT CONTENT
Each lesson covers a specific topic and at the end of the course you'll be able to communicate with confidence in everyday situations, such as:
Greetings;

Giving personal information;

Likes and dislikes;

Family life;

Describing people and things;

Socializing; 

Describing habits and routines;

Travel and leisure activities;

Making suggestions and invitations; 

Food and restaurant; 

Shopping and services;

Talking about the past and future;

Work and jobs;

Getting around the city;

Transportation.
You will learn my language through situations that you would come across living in Brazil. 
That's what I mean by real-life Portuguese!

IT'S PORTUGUESE ON THE GO
My course allows you to learn at your own pace, anywhere and on any device.
It's perfect for those who have a busy schedule.
All content is in our Virtual Classroom: videos, audios, exercises, PDFs. The lessons follow a predetermined order and grammar is taught gradually, in a simple and easy way.
All you need to do is to follow my recommendations and the order in which the lessons are presented.

STEP-BY-STEP PRONUNCIATION LESSONS
Correct and clear pronunciation is as important as listening and conversational skills. Improper pronunciation can lead to misunderstanding and ineffective communication.
That's why you will have advanced pronunciation lessons throughout the course. 
Prepare yourself for the compliments, because you will take your pronunciation to a high level!
If you enjoyed my pronunciation series on YouTube, you'll love Portuguese in Record Time!

VOICE RECORDING 
Ok, I trained your ears, but… How do I know if what I say will be understood by a native? How do I know if I am pronouncing the words correctly?
It's easy! You'll record your voice and I'll give you personalized feedback on your pronunciation.
You will be able to visualize your progress and keep track of your performance at all stages of the course.
Imagine having this guidance in every single lesson, this is just fantastic!

SMART FLASHCARDS 
Memorizing conjugations (see more here) is one of the greatest stumbling blocks for Portuguese learners!
Verbs in Portuguese are conjugated by person and number, meaning that you'll have to memorize 4 different endings for each verb that you learn.
If that's not enough, the conjugations can be different depending on whether the verb ends in -ar, -er, -or -ir. 
With the smart flashcards I created for you, vocabulary and verb conjugations will be on the tip of your tongue.

ONE-ON-ONE CONVERSATION CLASSES 
In classroom settings pressured by peers, some students fear answering questions, making mistakes or taking risks. 
Besides being more productive, one-on-one classes are less stressful than group teaching, because there are no wrong answers or silly questions and students don't have to fear being themselves.
You'll feel more comfortable expressing yourself.

24/7 TUTORING
In addition to all the resources above, you can clarify your doubts with me at any time, in each lesson there is a comments section for you to interact with me.
I'm sure this is the first time you'll have a teacher at your disposal 24 hours a day, 7 days per week.

I've been trying to learn Portuguese for the past 3 years through different courses without much success. I recently came across the Portuguese in Record Time Course and I'm finally making excellent progress with Ricardo's focused topics and learning techniques. The personalized voice recording feedback and one-on-one conversation classes have been extremely useful, not only to improve my pronunciation but also to gain the confidence to communicate with native speakers. Ricardo is a dedicated teacher who spends time providing valuable feedback and pronunciation tips. I highly recommend the course!
Catlyn Lightfoot
Cape Town, South Africa.
I have tried many teachers prior Ricardo and definitively he is the best… good lessons, fun, very focus, and helpful. I recommend him very much.
Patricia Ibarra
Miami, USA.
I tried to learn Portuguese from two online language apps for a week or two but I got frustrated when I couldn't get the pronunciation right and there was no one to ask. I found Ricardo who had extensive experience in languages and online learning. He answered all my questions in a clear and constructive way. As a teacher, he is patient and always ready to give that little extra.
Kenneth Ingelsson
Skåne, Sweden.
I initially began learning Portuguese through one of the online language apps prior to learning with Ricardo. Although I had learned some basic vocabulary and greetings, I felt that I wasn't really learning to speak or understand what I heard. With Ricardo my experience was immensely enjoyable and I could feel myself improving all the time. The course fulfilled its promise of learning Portuguese quickly given my time constraints with work and availability. I couldn't have expected to learn any faster unless I were living in Brazil.
Daniel Lynch
Saint Paul, USA.
Ricardo spents a lot of time really getting into pronunciation, which made me feel like I was already making great progress right from the beginning. I am more confident already!
Kevin Winebold
New York, USA.
I was studying Portuguese for several years on and off but without practice and much dedication. So I knew grammar but didn't have any practice and couldn't use the grammar and couldn't talk properly. Then, I found Ricardo. All his classes are perfectly structured and organized. The lessons are divided into topics and each topic completely covers the necessary vocabulary, plus explains new grammar. Then, I caught myself thinking that at some point I started completely understand what Ricardo was saying. I love structured lessons and structured explanations of the language, which helped me to learn easily and with fun!
Anya Mikhaylova
Moscow, Russia.
Ricardo explains everything well and answers my questions clearly. He's always patient and pleasant.
Scott Warren
Columbia, USA.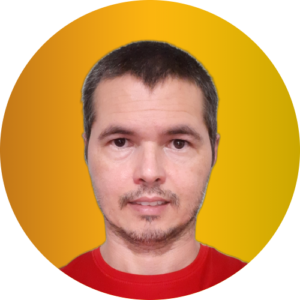 MEET YOUR TEACHER
Hi! My name's Ricardo Filgueira, I'm from São Luís – Maranhão and I've been living in São Paulo since 2015.
I have a degree in Modern Languages, I'm a specialist in Portuguese Language, a specialist in Distance Education and an Instructional Designer.
My Portuguese teaching experience started in 2002, when I lived in Geneva, Switzerland.
I'm the creator of the Portuguese in Record Time Method and several online courses.
Besides Portuguese, I speak English, French and I'm currently learning German.

GUARANTEE
This course is the result of years of dedication to Portuguese teaching and I'm sure you will love it!
But, if you are not satisfied with it in any way whatsoever, just let me know within 10 days of purchase, I will issue a prompt refund. No hassle, no questions.
So, rest assured, give yourself the opportunity to learn Portuguese the right way.

ESSENTIAL
$
119
One payment
COMPLETE
$
187
One payment

FREQUENTLY ASKED QUESTIONS
1 – When does the course start?
You start immediately, you don't need to wait for registration dates. After payment confirmation, you will receive your data to enter the course.
2 – What teaching approach does Portuguese in Record Time use?
My method is the result of more than a decade dedicated to Portuguese teaching, Instructional Design and language learning techniques.
To sum it up, it basically uses the Lexical Approach, Dual Coding and Comprehensible Input (see more here).
You will see in practice how this all works when you join the course.
3 – How long does it take for me to conclude the course?
If you dedicate yourself and follow my recommendations throughout the course, you will conclude the course in 4 months or less!

The time it will take you to conclude the course depends on your motivation and amount of time you invest in your studies.
In total, you'll have 1 year of access and tutoring.
4 – What level will I reach when I conclude the course?
You'll reach basic level (A2), it's ideal for tourism and to socialize with native speakers.
In everyday speech, the A2 level might be described as "basic" as in "I speak basic Portuguese".
As I told you, you'll learn Portuguese to get by.
5 – How do the conversation classes work?
In each conversation class you will have the opportunity to practice your Portuguese for 50 minutes.
And on that same occasion, I will also monitor your progress so far, just to make sure you're on the right track.
6 – Does the course offer a certificate?
Yeah, and it's not just a stylish document, it's an indisputable proof that you really speak Portuguese.
The student gets a fraud-proof certificate in digital format.
All certificates have a QR CODE that further facilitates validation and proof of authenticity.