Speak Portuguese With Ease in
Any Situation
Get to know Portuguese in Record Time, the only online course that provides a true immersion in the Portuguese language and Brazilian culture through real-life situations.
PRESS PLAY TO LEARN MORE 👆
Portuguese in Record Time is a complete course, with everything you need to learn Portuguese fast and once for all:
Portuguese taught through real-life situations in video.
Grammar made easy.
Pronunciation explained in details and 

accent reduction activities.

Conversation practice.
Engaging activities to help you memorize vocabulary.
Smart flashcards.
Native teacher to answer your questions and track your progress.

Materials to download. 
CONTENT
The course is made up of 145 video lessons divided into 15 modules/lessons. 
Check out its main topics: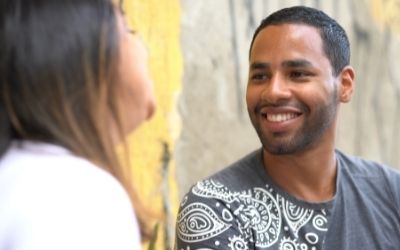 Interests and personal information

Giving personal information is crucial to communicate with others.
Knowing how to talk about you and your interests are the basis for any conversation, and so, are important for when you meet somebody. And the best of all… you will be able to express yourself using real-life Portuguese.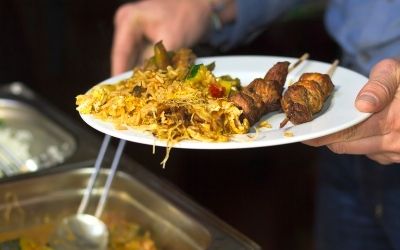 Food and restaurant
Brazilian cuisine is one of the best in the world! We have great street food, excellent cuts of meat, unique fruits and delicious drinks.
You'll learn the vocabulary to understand the most diverse menus and dishes, from simple street food to the best restaurants in São Paulo.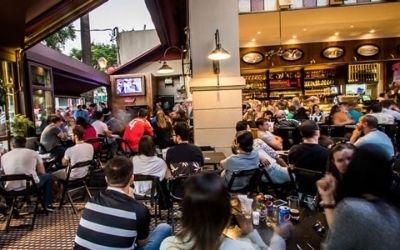 Hanging out and socializing
Brazilians love to meet people, they love to shoot the breeze, anytime, anywhere: at the checkout line, in a bar, at the bus stop etc. In these situations, many foreigners would say "Sorry, I don't speak Portuguese". But, not you!
Imagine the astonished face of Brazilians when they hear you speak good Portuguese!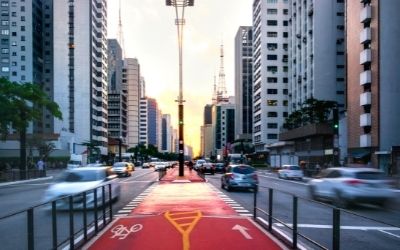 Transport and getting around the city
In Brazil, the means of transport vary a lot from city to city.
Learn in practice how the means of transport work in Brazil. You will also learn how to ask for information and say your destination.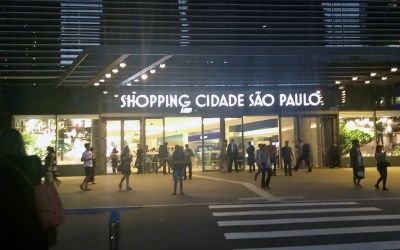 Shopping and services

Shopping vocabulary is essential, without it we can't buy food, clothes, medicine, services or anything we need.
In addition to knowing how to express yourself in the most varied shopping situations, you will see all this vocabulary in practice, visiting different types of store in São Paulo.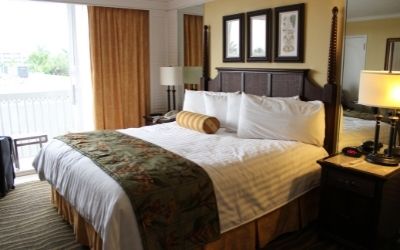 Hotel stay and accommodation
And if you ever need to travel to Brazil, I have a complete lesson that will be very useful to you. 
You'll learn how to book a hotel, how to talk about staying and how to describe common hotel problems. I'll also show you the peculiarities of Brazilian accommodation for you to feel at home.
Accent Reduction Activities
If you enjoyed my pronunciation series on YouTube (watch it below), you'll love Portuguese in Record Time!
In addition to advanced pronunciation lessons, throughout the entire course you'll have accent reduction activities.
Prepare yourself to take your pronunciation to a higher level!
Downloadable Materials
I want you to have the course content always easy in your hand.
That's why throughout the course you will have several files for download (MP3 and PDF).
This is really Portuguese on the go!
One-on-one Conversation Classes
In each conversation practice you will have the opportunity to practice your Portuguese for 50 minutes.

At the same time, I will monitor your ongoing progress, just to make sure you're on the right track.
Smart Flashcards
For language learners, flashcards are one of the best study tools, because they promote studying through active recall, which is one of the practices through which our brains learn most effectively.
Flashcards are engaging activities that promote a lasting understanding of key concepts.
You will have access to exclusive flashcards that will help you retain the main concepts of each lesson, and the best of all… with audio!
24/7 Tutoring
In addition to all the resources above, you can clarify your doubts at any time, in each lesson there is a section for you to interact with me.
I'm sure this is the first time you'll have a teacher at your disposal 24 hours a day, 7 days per week.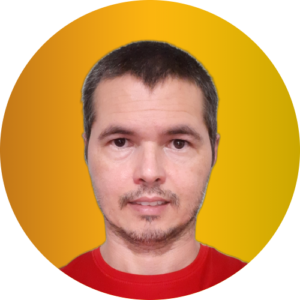 MEET YOUR TEACHER
Hi! My name's Ricardo Filgueira, I'm from São Luís – Maranhão and I've been living in São Paulo since 2015.
I have a degree in Modern Languages, I'm a specialist in Portuguese Language, a specialist in Distance Education and an Instructional Designer.
My Portuguese teaching experience started in 2002, when I lived in Geneva, Switzerland.
I'm the creator of the Portuguese in Record Time Method and several online courses.
Besides Portuguese, I speak English, French and I'm currently learning German.
I initially began learning Portuguese through one of the online language apps prior to learning with Ricardo. Although I had learned some basic vocabulary and greetings, I felt that I wasn't really learning to speak or understand what I heard. With Ricardo my experience was immensely enjoyable and I could feel myself improving all the time. The course fulfilled its promise of learning Portuguese quickly given my time constraints with work and availability. I couldn't have expected to learn any faster unless I were living in Brazil.
Daniel Lynch
USA
Ricardo spents a lot of time really getting into pronunciation, which made me feel like I was already making great progress right from the beginning. I am more confident already!
Kevin Winebold
USA
I've been trying to learn Portuguese for the past 3 years through different courses without much success. I recently came across the Portuguese in Record Time Course and I'm finally making excellent progress with Ricardo's focused topics and learning techniques. The accent reduction activities and one-on-one conversation classes have been extremely useful, not only to improve my pronunciation but also to gain the confidence to communicate with native speakers. Ricardo is a dedicated teacher who spends time providing valuable feedback and pronunciation tips. I highly recommend the course!
Catlyn Lightfoot
South Africa
I tried to learn Portuguese from two online language apps for a week or two but I got frustrated when I couldn't get the pronunciation right and there was no one to ask. I found Ricardo who had extensive experience in languages and online learning. He answered all my questions in a clear and constructive way. As a teacher, he is patient and always ready to give that little extra.
Kenneth Ingelsson
Sweden
Ricardo explains everything well and answers my questions clearly. He's always patient and pleasant.
Scott Warren
USA
I was studying Portuguese for several years on and off but without practice and much dedication. So I knew grammar but didn't have any practice and couldn't use the grammar and couldn't talk properly. Then, I found Ricardo. All his classes are perfectly structured and organized. The lessons are divided into topics and each topic completely covers the necessary vocabulary, plus explains new grammar. I love the lessons and structured explanations of the language, which helped me to learn easily and with fun!
Anya Mikhaylova
Russia
I have tried many teachers prior Ricardo and definitively he's the best! Good lessons, fun, very focus, and helpful. I recommend him very much.
Patricia Ibarra
USA
GUARANTEE
This course is the result of years of dedication to Portuguese teaching and I'm sure you will love it!
But, if you are not satisfied with it in any way whatsoever, just let me know within 10 days of purchase, I will issue a prompt refund. No hassle, no questions.
So, rest assured, give yourself the opportunity to learn Portuguese fast and the right way.
STARTER
Accent Reduction Activities
ESSENTIAL
Accent Reduction Activities
COMPLETE
Accent Reduction Activities
FREQUENTLY ASKED QUESTIONS