Learn how to do the texts required at Celpe-Bras, focusing on the essentials to pass the Exam 
Who is this course for?
This course is for those taking the exam and needs to be well prepared to produce the different types of texts Celpe-Bras.
By preparing in advance, you identify and correct your failures in time, avoiding compromising your approval.
Almost half of the candidates fail the exam 
Why do so many people fail at Celpe-Bras? I explain the main reasons in the video below.
Meet your teacher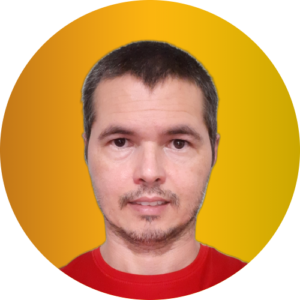 Hi! My name's Ricardo Filgueira, I have a degree in Modern Languages, I'm a specialist in Portuguese Language, a specialist in Distance Education and an Instructional Designer.
My Portuguese teaching experience started in 2002, when I lived in Geneva, Switzerland.
I'm the creator of the Portuguese in Record Time Method and several other online courses.
Besides Portuguese, I speak English, French and I'm currently learning German.
How it works
This course is 100% online, you can study using any device: cell phone, computer, notebook etc.
After completing the payment, you will receive the data to access the Virtual Classroom in the same email that you used to purchase the course.
In the Virtual Classroom will be all videos, exercises and materials. You will be able to study the contents whenever you want and as many times as you want, you make your study schedules.
In addition to having access to the best content, you can also clarify all your doubts with Prof. Ricardo Filgueira through the messaging system of the Virtual Classroom.
Entering the course's Virtual Classroom is as simple as logging into your email account.
Testmonials






















10 days money back guarantee
If you are not satisfied with it in any way whatsoever, just let me know within 10 days of purchase.
I will issue a prompt refund. No hassle, no questions, no ifs, no buts.
Cost
Curso Celpe-Bras 4.0 (no correction of  tarefas)
-> Course in Portuguese and 100% online;
-> Composing techniques;
-> Templates of tarefas;
-> How to succeed in Prova Oral;
-> PDF files to download;
-> Teacher to clarify your doubts;
-> Exercises;
-> 45 days of access and tutoring.
U$D 47,00

Curso Celpe-Bras 5.0 (correction of  4 tarefas)
-> Course in Portuguese and 100% online;
-> Composing techniques;
-> Templates of tarefas;
-> How to succeed in Prova Oral;
-> PDF files to download;
-> Teacher to clarify your doubts;
-> Exercises;
-> Correction of tarefas;
-> 60 days of access and tutoring;
-> Speaking analysis and pronunciation correction via WhatsApp.
U$D 89,00

Frequently Asked Questions
1 – I don't have a credit card, can a friend buy for me?
No problem! After payment confirmation, contact us informing the name and email of the buyer that we will transfer access to the course.
2 – How many hours do I need to study per day?
I recommend that you dedicate at least 50 minutes a days to have good results in the exam.
3 – Will I learn Portuguese from scratch with this course?
This course is for students who already know the structures of Portuguese.
To participate in this course, it is recommended that you have at least the basic level – A2 (see question below).
If you do not have this level yet, start with my course for beginners Portuguese in Record Time.
4 – How do I know if I have the right level (A2) to take the course?
According to CEFRL, someone with the A2 level has the following profile:
He/she can understand sentences and frequently-used expressions related to the areas of experience most immediately relevant to him/her (e.g. very basic personal and family information, shopping, places of interest, employment, etc.).
She/he can communicate in simple, everyday tasks requiring no more than a simple and direct exchange of information on familiar and routine matters.
He/she can describe in simple terms aspects of his/her past, environment and matters related to his/her immediate needs.
An A2 level of English is not sufficient for academic study or for consuming most English-language media (TV, movies, radio, magazines, etc.).
5 – Is the course recognized by MEC?
The Preparatory Course for Celpe-Bras is a free course.
Free, face-to-face or distance learning courses are provided by law by Presidential Decree No. 5,154 (July 23, 2004).
Free courses can be offered by any company or person who has the necessary knowledge to offer it.
Free courses are a type of education with variable duration, focused on specific learning for professional or personal qualification in a specific area.
They can be offered in person or remotely. Examples of free courses are: computer, language, cooking, photography courses, etc.
Only undergraduate and graduate courses need authorization from MEC (Ministry of Education). Technical and vocational courses are authorized by the State Education Secretariats.
Questions?